This page contains some information about me and who I am. I don't think that the world wants to know about my personal life. If you are interested you will continue reading this page and if you are not you can go to Suriname pages.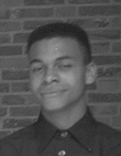 My e-mail adress: pajtroon@dds.nl. My ICQ-Number: #3900785.
I was born on thursday october 24 1974 in Paramaribo, which lies in the present Republic of Suriname.
On that day Suriname still was a colony of the kingdom of the Netherlands, an overseas territory owned by the Netherlands. Suriname would become an independent state on tuesday november 25 1795.
Back to my story......So my birthday is on october 24. I think it is better not to tell here what time it was, when I was born, because otherwise I will recieve messages in my mailbox about the horoscope someone made up for me ..... I think you can understand, that that is the last thing I need.
I lived in Paramaribo until the end of 1985. I was almost 11 years old, when I moved from Suriname to the Netherlands on sunday september 1st 1985. I settled down in Amsterdam - Osdorp. Osdorp is part of the suburbs West of Amsterdam and lies near the Amsterdam - Airport called Schiphol. Although I live here in the Netherlands, I still have a big love for Suriname. It is my native country.
My hobby's are: listening to good music, drawing, working with computers, programming, surfing on the internet, keeping up my homepages, cycling, walking en other things....
I like different kinds of music. It is impossible to describe here everything I like, but I'll try. I like many sorts of music. Especially Soul, R&B, New Jack Swing (Swingbeat), Hip Hop, Clubhouse and dance music. My taste varies from Classical music to house. Even some rock songs are good, notably the rock ballads, but in my opinion there are not many good rock songs. Behind this link there is a list with a big part of the music artist, which I like. I am not kidding about me liking classical music. Compostions by people like Bach, Beethoven, Chopin, Mozart and Tsjaikovski. Did you know that this man is my namesake. His full name is Pjotr Iljitsj Tsjaikowski. You can understand of course that Pjotr is the same name as Peter. The names Peter, Pieter, Piet, Pierre, Pedro and Pjotr are dirivations of Petrus and that name was derived from the Greek word Petra, which means rock. I will explain how that name came into existence. Jesus Christ said to one of his apostles, whose name was Simon, the next senctence: "Simon, tu est Petrus", which means "Simon, you are Petrus" or "Simon, you are the rock". He was the rock, the foundation of the present catholical church. After Jesus was crucified and his ressurection he was the most important man of the church here on earth. He was the first leader and he is considerd the first pope. The present pope is his successor. I think, that you must have understood by now that I am a Roman Catholic. Yes....I believe in God. Ofcourse I was baptized and I received Christian names. One of them is Peter. The A. and the J. in my name Peter A. J. Troon stand for the other two. But I don't publish those names like that. If you know me very well, you might get to know them. Sorry.
I finished highschool in 1992. I was 17 when I heard on friday June 12th 1992, that I passed my exams. After that I went studying in Delft. I wanted to be an engineer, but during that time I discovered, that I had this love for computers. That's why I switched and started over just to study computer science.... If you want to know more about me, you should contact me on this adress: pajtroon@dds.nl. My ICQ-Number is #3900785.
If I know you better, than you will get to know more about me and you'll be able to access more information about me.
Please feel free to sign or to view my guestbook.



Suggestions for this page? E-mail me on: pajtroon@dds.nl.
This page: Copyright © 1996 - 2006 Peter A. J. Troon
Note: This page is part of the Peter Troon site.
---
This page is part of the Peter Troon site